Installation of eyelets manually at home. How to install grommets manually.
Добавлено

alex

вкл Tuesday, 6 January 2015
English
Lesson laborious, requiring patience and perseverance, if you want to set it so that it looked like a factory.
Eyelet - item consisting of two parts: eyelets and ring  


The major diameter of the eyelet holes: 3 mm, 4 mm, 5 mm, 5.5 mm, 6 mm, 7 mm, 8 mm, 9 mm, 9.5 mm, 11 mm,12 mm, 14 mm, 14.5 mm, 15 mm, 18 mm, 20 mm, 29 mm, 40 mm.
Install the grommet preferably on wooden surfaces, if possible, use a soft wood.
For expanding the tubular portion of the eyelet can be used suitable for the diameter of the ball bearing. If that is not available, rummage in the tool box and find a bolt or screw with a rounded head that fits.


For punching holes, it is desirable to have the punch, at least one, with a diameter of 2 mm
Under the smallest diameter of the eyelet 3 mm


Or to sharpen a thin tube.
For eyelets larger diameter can be punched in the setup a few holes, finding each other.
Punched hole, inserted block, worn a ring-eyelet.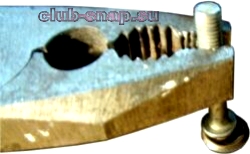 You can use pliers.
Hammer resultshowever the tube of the eyelet. 


If it turned out badly, finally resultshowever hammer.  
Get good result. Hammer much impossible to knock, otherwise the front of the eyelet is deformed. 


In addition to ball bearings and bolts can be used, for example, furniture handle.  

Fits most diameter of the eyelets.       


Easy to install eyelets large diameter by means of a bolt with a rounded head.
Example: Setting the eyelet diameter 14 mm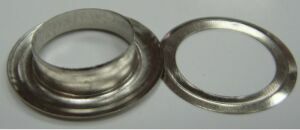 Insert the eyelet into the pre-cut hole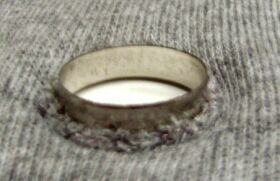 Then put luverne ring on the reverse side.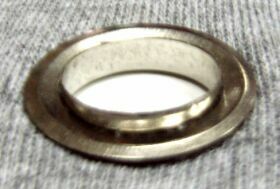 Top mounted bolt with a round head and hammered with a hammer. The bolt must be strictly vertically, that would not break the eyelet.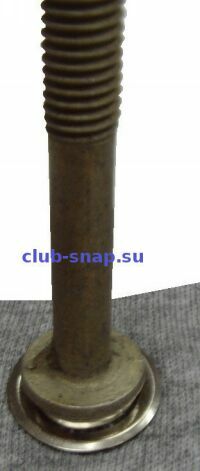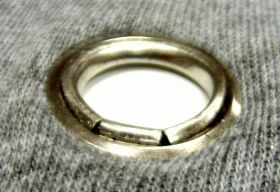 When installing the grommets need to know:
Is less than the height of the eyelet, the easier it is to install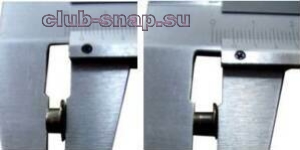 - The easiest way to install eyelets of non-ferrous (stainless steel) metals.


They can be detected using the magnet, the steel will be magnetized. As steel eyelets more difficult to establish, it is necessary to apply a greater force of impact hammer, which can lead to deformation of the eyelet.
Tips:
- Do not install the rubber grommets on the surface, as if not successful strike with a hammer (not centered) eyelet immediately deformed.
Another way to install eyelets: on the lead plate. Set a few pieces. The plate is deformed. A gas burner heated the lead, the surface smooth again and ready to use. You can work on.
Opinion: All of the methods you can install multiple pieces of eyelets, but if this activity is permanent and you want to install a large number of eyelets, it is better to buy special equipment.