The scheme of installation rivets. Instruction.
Добавлено

alex

вкл Monday, 9 March 2015
English

Turkish company offers: more than 24 types of nozzles (the set consists of two parts). Sold separately stand for convex hallatrow MT-1024.

  (very important detail)
Offer Greece - 22 types of punches (only the upper part) + punch for carnation denim

Each of the nozzles of punches designed for the particular type of rivets .
When selecting nozzles of hallatrow preferably specifically, to determine what types of rivets You will install and based on this to determine how many nozzles - punches right in the first place.

  
                                                                 
Read in another article, as you can with a smaller number of nozzles - punches.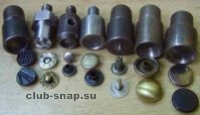 Tips:
Special attention is paid in the process of punching holes of rivets. Fixing the punch on the markup, inspect the underside of the product (under the punch), there is the possibility of formation of folds of fabric, You can imprudent to punch a hole in a totally not the right place, thus spoiling the product. Outside view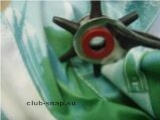 and from the inside


Working with the press:
Do not push on the handle to press with all his strength, the more do not make any sudden pressure. Press the handle of the press gradually increasing the load. A sharp jerk to compare with the hammer. Then it is easier to use a hammer , not pressure. As soon as you feel resistance on the handle of the press has increased and you will hear a click - stop, hainichen secured all layers of fabric. If too much pressure to handle the press, the thin fabric or leather can be damaged.
Practice on different combinations tissue ( dense, medium-thick, thin). Push, if not crushed element, increase the force until you get the desired result. Not originally digimate to the end, to stop, stop look at the installed hainichen kept - well, it turns around its axis, means godavita.
The nozzle plug for carnation denim.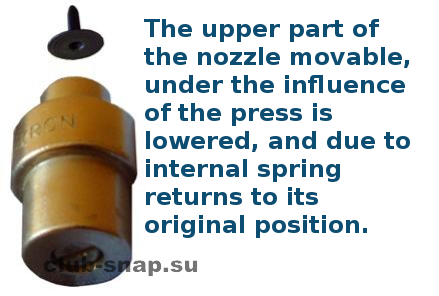 Try not to set of rivets on aluminum carnation denim
they have a poor record hainichen.  


 Now this kind have carnations for rivets after installation.


Only use on tubular metal carnations

This is Your guarantee of quality.

Note: aluminum nail put rivets in the main manufacturers from China and Turkey (consumer goods).
On branded jeans (or firm) install metallic pinks logo manufacturer
Thanks to the Chinese and Turks with us without bread will not leave.

The order of installation of rivets:
1. To punch a hole in the fabric.
2. Paste carnations rivet into the hole.
3. Put the fabric with a nail on the bottom part of the nozzle (wrong side down).
4. To wear a hat rivet on the nail (on top of the fabric).
5. Clamp rivet press.
Schematic setup:                                               
                           Flat sided rivets dia.9.5 mm                                                                                                          Figure rivets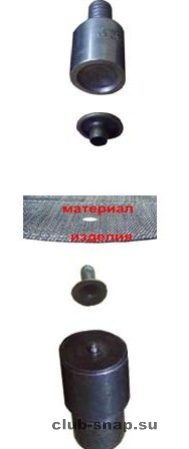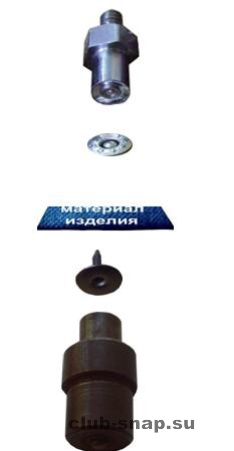 Spherical one-sided rivets                                                              Flat sided rivets Ø 7 mm on denim cloves
                            


                                                  Bilateral rivets                                                                                   

.