Types of s-spring buttons for clothing (buttons alpha)
Добавлено

alex

вкл Friday, 16 January 2015
English
For General information.
Buttons for clothing is a commonly used type of fastener. They are used for jackets, shirts, dresses, and bags and so on.. the Button consists of 4 parts. The upper part of the button - hat - can be smooth, with pictures, with rhinestones, enamel and has a different color metal: Nickel, brass, black Nickel, silver, old silver, etc. Installation fasteners buttons on clothing is made by using a press and special nozzles.  The advantage of buttons in a fast and easy undoing, are fastened to the product, long-term use.
Use buttons: for thick fabric composed at least in two layers. Jackets made out of leather and fabric, down jackets, jackets, ladies coats, raincoats, bags, backpacks, strollers and stuff like that.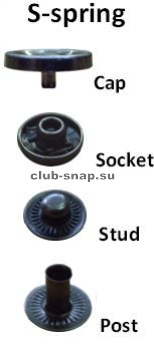 The metal of which is made s-spring buttons is divided into two categories: steel - these buttons are cheaper, and stainless button - ferrous metals, their cost is 2-3 times higher.
An overview of the buttons:
The diameter of the cap of the button may vary from 10 to 40mm.


The diameters of the tubular part of the front part of the button (Cap) from 2.5 mm to 4 mm: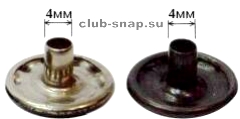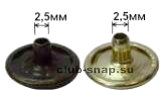 The main dimensions of the constituent parts of buttons "alpha" (S-spring: eng - spring):.
Asian buttons (made in PRC and South Korea)
Diameter 14 mm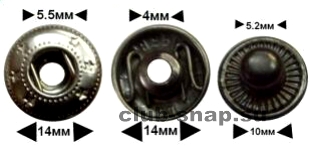 The diameter of 13.5 mm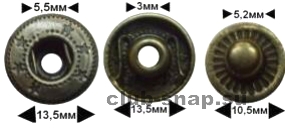 Diameter 13 mm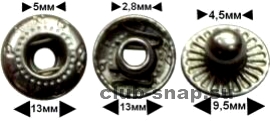 Diameter 12 mm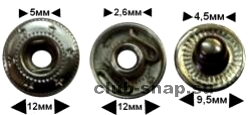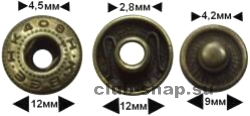 Diameter 10 mm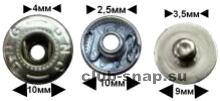 Turkish buttons (preimushestvenno brand New Star):
Diameter 15 mm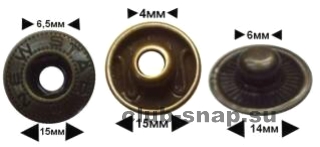 Diameter 12,5 mm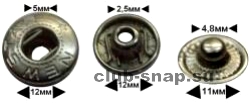 Diameter 10 mm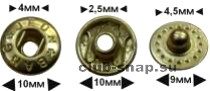 Button production Greece "Big accessories"
The diameter of 13.5 mm
 
   
The diameter of 11.5 mm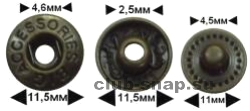 Button company PRYM (Germany)

    and its subsidiaries "Fiocchi"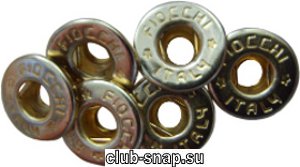 In addition, under the trademark "Fiocche" available buttons with a diameter of 8mm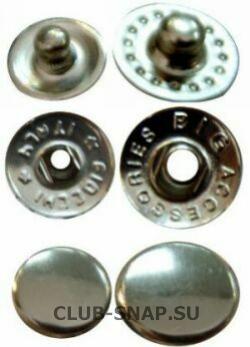 (Comparison with buttons with a diameter of 10mm)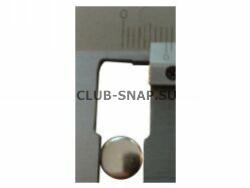 Buttons with a larger space.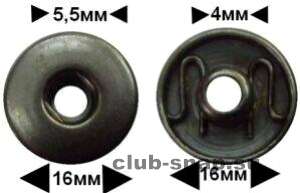 (suitable to detail buttons "New Star")
Manufacturers often put their logo on spring part button: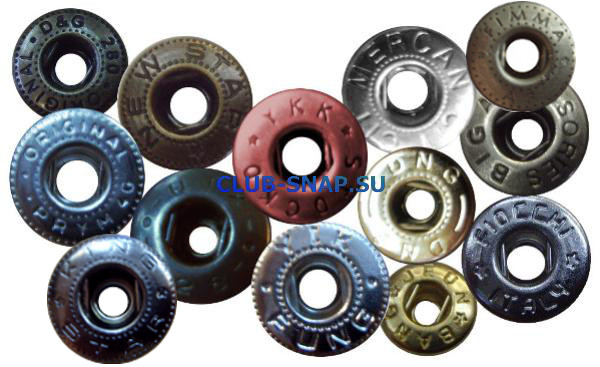 Comments:
In order to be able to install the entire volume buttons alpha, will have to gradually collect most of the range of the above mentioned buttons.
The minimum amount for 50pcs ( for the first time).
1. Button type "New Star" diameters 15,12 and 10 mm
2. Click "Big accessories" diameters of 13.5 and 11.5 mm (necessarily) because item

- stud 
fits most Asian buttons.
For example to detail -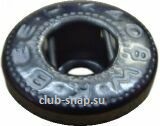 socket.
The types of devices to install s-spring buttons
For each convexity or concavity of the front panel buttons manufacturers produced a special nozzle - punches.
Examples: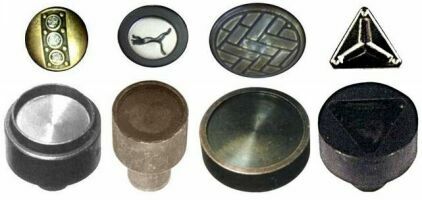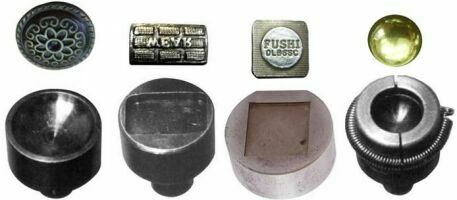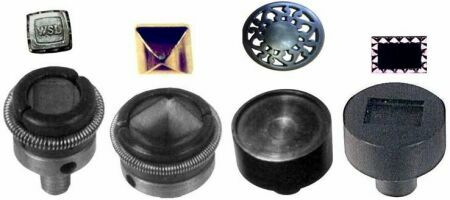 In addition, many firms in the automobile service order exclusive buttons with his logotipo.
(which then safely destroyed):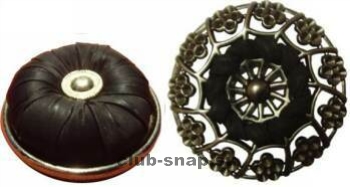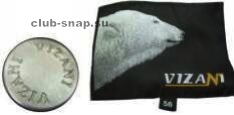 Logos are applied not only on the front part of the button, but on the inner part.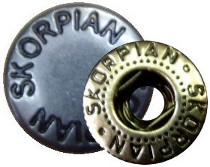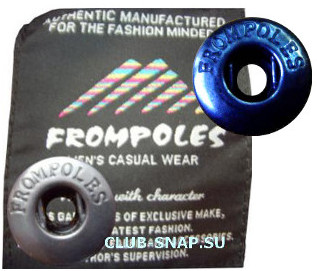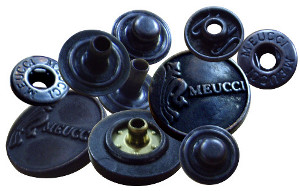 You must know that these buttons are made to order, and on General sale not do. Therefore, the same button can not be found. Choose to install from what is available.